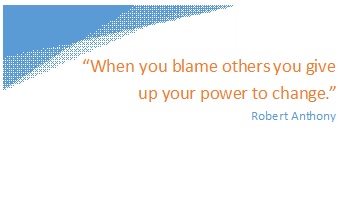 Why do some people blame others instead of accepting responsibility for their actions? 
If you have trouble accepting responsibility or are the object of someone's unjustified blame, it may help you to understand the dynamics behind this behaviour. Some of the reasons people blame others:
They feel out of control. Unable to handle the fear of being out of control and helpless in a situation, people will restore their sense of control by blaming others. By blaming others the helpless person assumes the position of the accuser and feels more in control.
Did not learn to take responsibility for actions. Some parents fail to teach their children how to take responsibility for their actions.  When they grow up, they blame others whenever something bad happens.
Unable to admit failure or mistakes. People that cannot accept they are imperfect will blame others to avoid responsibility.  Being flawed or imperfect is interpreted as having no self-worth accompanied by feelings of shame.
Unable to accept what happened. To avoid accepting that something has changed, people will blame others.
When people fail to take personal responsibility for failures and mistakes, the road to constructive change is blocked.  Dr. Elliot Cohen wrote, "While people are not perfect they can learn from